"A Dog's Plea " was sent to me by LoboWolf
as the last days drew near for Spartacus.
The thought of losing him was unbearable to me;
Many thought he was ready to leave,
and looking back he probably was.
We will love him and miss him
forever and one day more.
My hands held him as he came into the world
and then when he went out.
My precious boy, we will meet again at
The Rainbow Bridge.

From my hands to God's hands...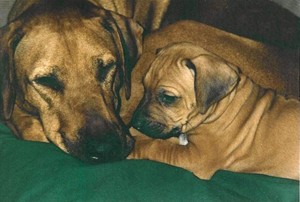 Mommy Pandora and Spartacus.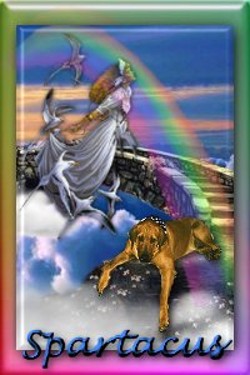 There now comes a time in Spartacus's life,
When the call to the bridge is loud and clear;
He is so precious and loving, loyal and sweet,
And he knows that the end of the road is near.



He has given years of great joy and happiness,
And he will rest deep in our hearts, for all time;
Such gentleness and protection, with loyalty and love,
Spartacus in his own right, has been truly sublime.



But as we look in his eyes, we can see his needs,
And his message to us in his eyes clearly showed,
"I want to go to the bridge and be healthy again,"
And bask in God's Garden at the end of the road.



I will always remember and look down with love,
And at some future time when your lives are done,
I'll come bounding to you, and greet you with joy,
When new lives together at the bridge have begun.



So please don't fret or worry, as the time draws near,
There is no reason at all for you to carry such a load,
Just recognize dear hearts, that my love is eternal,
As the circle of life closes, at the end of the road...."
© Neale (Mack) McGee aka Running Wolf
June, 2005-08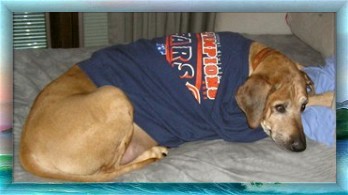 Had I loved you less
I would have tried to make you stay
Would have closed my eyes to your pain
And ignored it was "Your Fine Day"

Would have told myself wait till tomorrow
Held you in my arms and not let you go
Avoided the signs you were sending to me
Told myself that when it's time I will know.

But my precious I loved you so much
I had to do what was best for you not me
Even though I knew the agony I would feel
I knew it was time for me to set you free

I knew this was the last time I'd hold you near
The last time that I could show you my love
I laid by you feeling the softness of your fur
Then the time came for you to go above

I tried to hide from you the pain I felt
Held back the tears welling in my eyes
Then when I saw that you were at peace
I clung to you and began to cry.

© Carol Ross aka CareWolf
2006-2025
Spartacus The Gladiator


We who love so deeply
Are called upon from above
To do what is unthinkable
For the babies that we love



We do not want to part
Fight against it till the end
Do everything that we can
To help our special friend



The time comes when we know
Can no longer question why
We must end their suffering
Let go so they may fly



We hold them with urgency
Trying to take their essence in
Realizing this is the last time
Then heartbreak will begin



Tears run down our face
Sadness fills our heart
Our soul cries out in anguish
Why did we have to part?



After they have gone
To the rainbow in the sky
Grief and pain engulf us
Why did they have to die?



We fought so hard to save them
Struggled against the tide
Our grief is overwhelming
They've crossed to the other side



Then we hear a whisper
Telling us not to fear
"I will always love you
And I will ever be near."



Look up to the night sky
And find the brightest star
When they are not with you
This is where they are.



© Carol Ross aka CareWolf
January, 2008-2025