Spartacus our loyal heart
Always so loving and true
You've gone up to heaven's gate
And we're left here missing you

Two hearts that are broken
A night without a day
A moon without the stars
Since you've gone away

Sparty as you can see
We're so lonely without you
Like a river that's gone dry
Or a sky that's lost it's blue

Gramps carried you up the stairs
Right through heaven's door
But remember we will love you
Forever and one day more

Written by
Nashoba Iki and Nashoba Ahalaia
LoboWolf and CareWolf




"I had been very sick for a long time. I longed to join my friends at the Rainbow Bridge.
There I would be well and could run and play again.
I knew that my family here would grieve when I left, even though they knew I would be happy.
I have been trying to tell them for some time but they were either unable or unwilling to hear my message.
Tonight I feel something has changed. I am back at the dog hospital and I saw the doctor crying
as she talked to my parents on the phone.
The nice man here has been sitting and petting me even more than he usually does.
I sensed something special was happening when they took me to a new room -one I have never seen before.
It looked like a living room and even had a sofa and pictures.
I saw Robyn there and I went to sit by her on the sofa. She helped me up
and I saw that there were tears running down her cheeks.
She wiped them and tried to smile but I knew that she was sad about something-I always knew.
She held me close. Then I saw something was shining in from the window.
I stretched up and saw that the whole sky was glowing as if a thousand candles were lighting it up.
I saw a man walking towards me down some beautiful stairs with a dog by his side.
It was Brandy- I could tell. She told me she came with Running Wolf (Mack)to show me the way to the Rainbow Bridge.
She also said that the sky was bright from the candles that are lit every Monday night
by the parents of the fur-babies at the bridge.
I remember seeing Mommy lighting candles for my family at the Rainbow Bridge
as I sat with her while she was in the Ceremony of the Candles at PetLoss.com.
Mommy and Daddy came into the room. They held me close but kept turning away.
Didn't they know I will always feel when they are sad no matter how they try to hide it?
I kept looking out the window-the sky was still so bright. Running Wolf and Brandy were outside waiting.
Mommy looked out the window to see what I was looking at. Why didn't she see them?
She even took a picture of me looking out. My friend the doctor came to see how we were doing.
She sat by me and petted me while she checked the bandage on my arm.


I was getting so tired and I ached all over.
Suddenly a feeling of euphoria came over me.
I was floating up high. When I looked down I and saw them
but they didn't see me.
They were crying and holding each other.
I started to call to them, when I heard Brandy calling me.
Then I remembered the window and suddenly I was outside.
Brandy ran to me and rained a bunch of wet doggie kisses on me.
"Brandy cut it out!", I said.
Then I was being lifted up into Running Wolf's arms.
He held me tightly and told me I was coming with them.
He said," Do not be afraid my handsome boy. We will keep you safe until your Mommy and Daddy come."
Then we were ascending the golden stairs through that beautiful glow.
I looked at Brandy running next to us.
She looked young and strong-not the sick Brandy I remembered.
They told me I too would be young and strong when we got to the Rainbow Bridge.
Then I asked about Mommy, Robyn and Daddy.
How could I leave them when they were crying?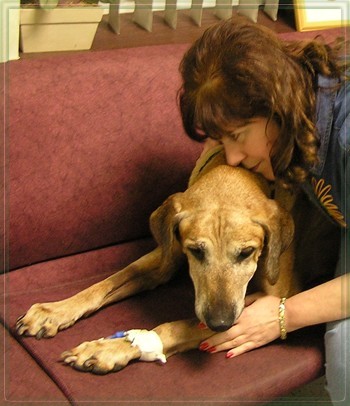 Mommy kissing Spartacus

I have always loved and protected them just as they loved and protected me.
Running Wolf explained that they would miss me very much,
but that one day we would all be together again.
They had done everything that they could do to make me well and happy ,
but I just kept getting sicker.
It was with their blessings that I was set free
so that I could go towards the light.
There would always be a special place in their hearts for me.
He said that
every time that Mommy lights the candles
the glow will reaffirm their love for me.
It will also renew their promise to join me one day
when they come to that turn in the road
and climb the golden stairs to heaven.
We all smiled at the thought
that then we would be reunited
for forever and one day more.
© Carol aka CareWolf
September 12, 2005-2020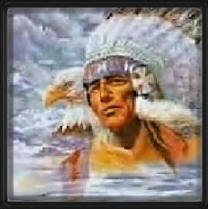 There now comes a time in Spartacus's life,
When the call to the bridge is loud and clear;
He is so precious and loving, loyal and sweet,
And he knows that the end of the road is near.



He has given years of great joy and happiness,
And he will rest deep in our hearts, for all time;
Such gentleness and protection, with loyalty and love,
Spartacus in his own right, has been truly sublime.



But as we look in his eyes, we can see his needs,
And his message to us in his eyes clearly showed,
"I want to go to the bridge and be healthy again,"
And bask in God's Garden at the end of the road.



I will always remember and look down with love,
And at some future time when your lives are done,
I'll come bounding to you, and greet you with joy,
When new lives together at the bridge have begun.



So please don't fret or worry, as the time draws near,
There is no reason at all for you to carry such a load,
Just recognize dear hearts, that my love is eternal,
As the circle of life closes, at the end of the road....

© Neale (Mack) McGee aka Running Wolf
June, 2005-2020
It is with great sorrow that I report the passing of
Running Wolf (Neale Mack McGee)
on August 8, 2005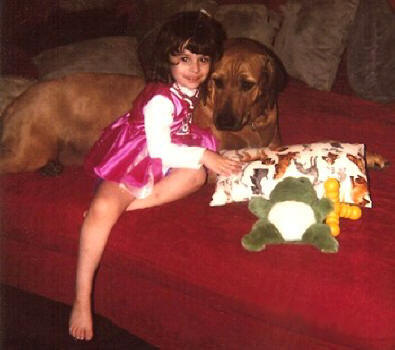 Spartacus and Brittany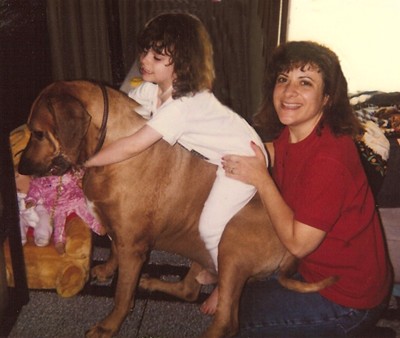 Brittany riding on Spartacus

Spartacus sitting on Stacey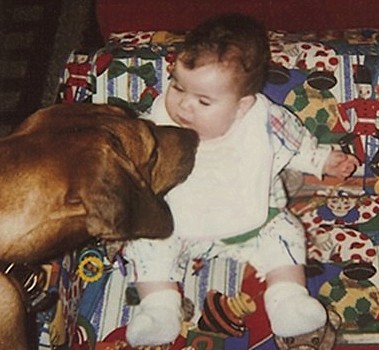 Spartacus and Hayley (6 months)



Spartacus our handsome boy
Now we know it is true
It wasn't that you needed us
It was us that needed you.



Each time that we come home
We open up the door
You're not there to greet us
And we just miss you more



When I am at the desk
I turn to check on you
Then I remember you aren't there
My loyal heart who loved so true



CareWolf aka Carol

September 28th, 2005-2020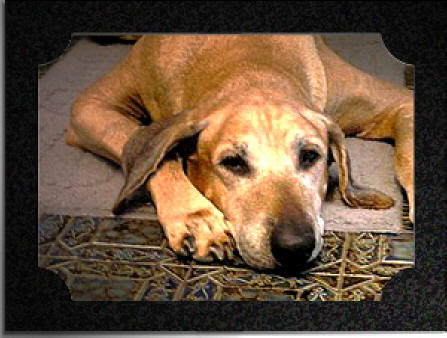 Click the Button to
Read of Running Wolf (Mack)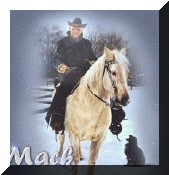 Click this Button
to go to Mack's Web Site













I feel him all around me
In the morning and the night
Right around the corner
Just beyond my sight

I hear his paws a- pounding
On the asphalt of my life
Taking me to higher places
Away from grief and strife

I see the Rainbow shining
Just around the bend
Where the water speaks to me
And the gentle wind's my friend

My heart goes all aflutter
And I feel that I can't speak
Cause my eyes have filled with tears
That roll gently right down my cheek

Carewolf and LoboWolf
Written for Spartacus
© October 12, 2005-2020




When the storm is over
I see a rainbow up above
It speaks to me of peace
It speaks to me of love

I see the rainbow glowing
See how it lights the skies
It brings a feeling of hope
As it's reflected in my eyes

Silver tears run down my face
As my memories start to flow
I will never be the same
I will always miss you so

The darkness is returning
I can feel it in my heart
My soul cries out to heaven
When will the healing start?

Carol aka CareWolf
©
Nov.26, 2005-2020
Please Let the Healing Start!


"Until the 12th of never we will still be loving you."


Sparty's Mommy and Daddy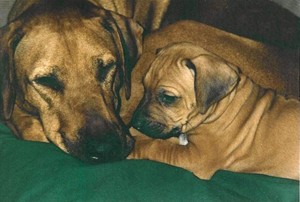 Pandora and Spartacus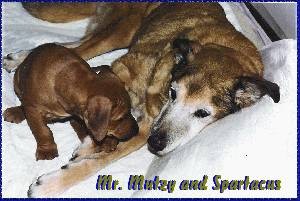 The Circle of Life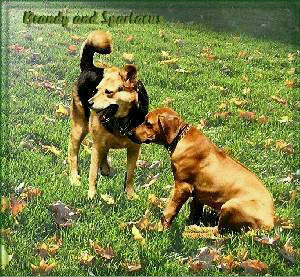 We will love him and all our babies at the Bridge
Today~Tomorrow ~Forever~ and One Day More...
Carol and Jeff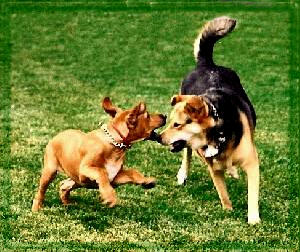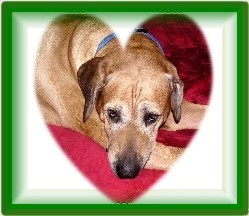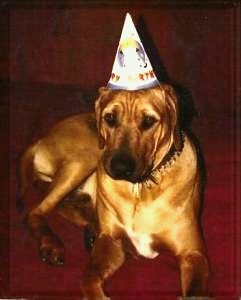 Happy Birthday Spartacus
February 17, 2006


If I loved you less
I would have tried to make you stay
Would have closed my eyes to your pain
And ignored it was "Your Fine Day"

Would have told myself there's always tomorrow
Held you in my arms and not let you go
Avoided all the signs you were sending me
Told myself when it was time I would know

But my precious I loved you so much
I did what was best for you not me
Knowing the agony that I would endure
The time had come to set you free

Aware this was the last time I'd hold you
The last time to show you my love
I laid by you feeling your soft fur
Until the time for you to go above

I tried to hide the pain I felt
To hold back the tears in my eyes
When I saw that you were at peace
I clung to you and began to cry.

My tears could fill a river
They just continue to flow
When does this grieving end?
Does anyone really know?

©~~Carol Ross~~aka~~Care Wolf
March 21, 2006-2020





In shadows softly drifting by.
Through misty mornings waking dreams.
Beneath the deep blue evening sky.
At end of day when sunset gleams.





In gently flowing clouds that glide.
Upon the wings of butterflies.
You'll feel my presence by your side.
My strong and knowing heart so wise.





For never have I gone too far.
My spirit lingers ever true.
From heavens distant shining star.
You'll find me watching over you.





© AurichWolf aka Kathy Hayes 2008-2025